Quality Payments - An introduction and what it means for contractors
The Department of Health (DH) has introduced a Quality Payments Scheme as part of the Community Pharmacy Contractual Framework in 2017/18. This involves payments being made to community pharmacy contractors meeting certain gateway and quality criteria, with funding taken from the overall funding for 2017/18 of £2.592 billion. See below for the CPSCs initial explanation, guidance, support material and newsletter updates.
As you are well aware the imposed two year Government funding package changes took effect from December 1st which removes £113m from Community Pharmacy representing a 4% reduction in revenue for this financial year and a further £95m decrease the year after; representing another 7.5%. This loss of revenue will affect all our contractors to varying amounts depending upon individual prescription items dispensed and geographical locality in respect to other pharmacies. One thing that will be consistent however is the need to review current service provision and to explore ways in which to maximise this to offset some of the direct remuneration loss from prescription payments.

A simple way to summarise the funding changes is shown pictorially below as a squeeze from both sides on Community Pharmacy.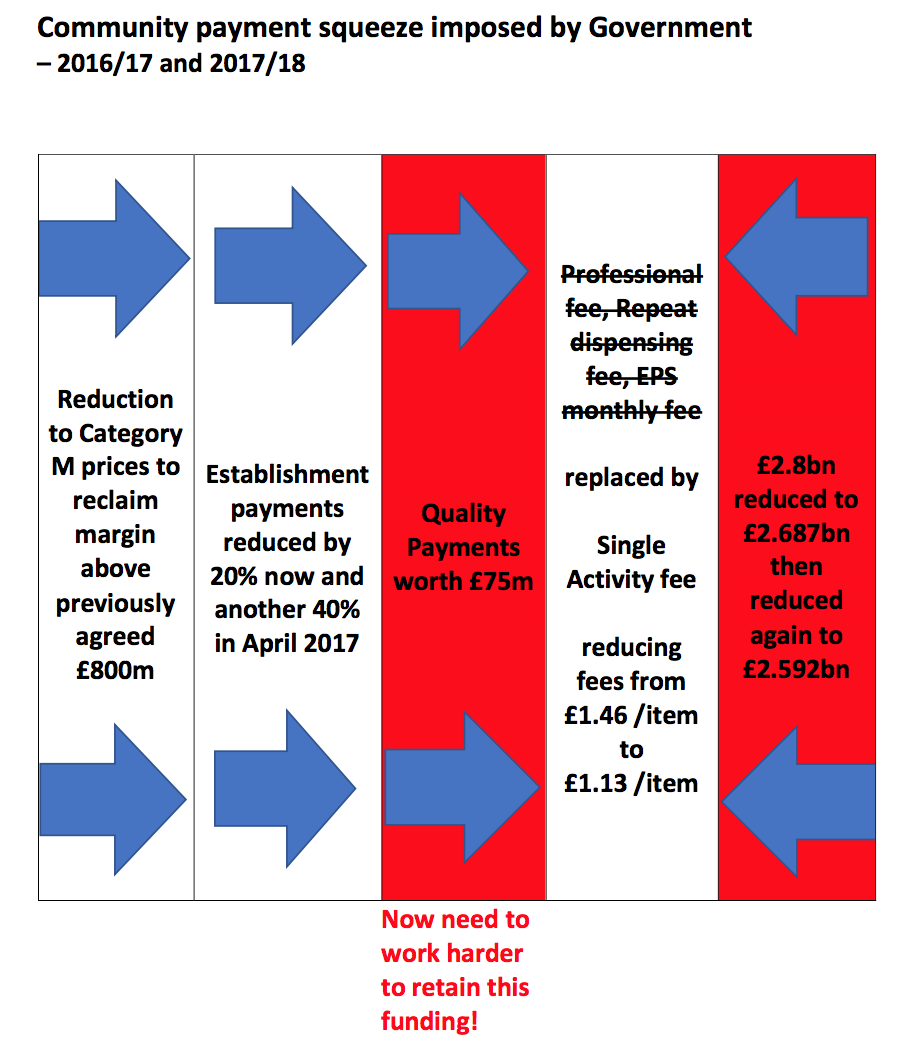 The NHS Quality Payment scheme details are becoming more clear as each week goes by since their initial announcement back in October 2016. CPSC would like to ensure that all contractors are aware of the new scheme and how best to progress achieving the maximum remuneration in the most efficient capacity.
The CPSC committee formed a HLP & Quality Payments Task & Finish group to work through the detail and consider what further actions CPSC needed to take on behalf of contractors.
There is already a lot of detail published regarding the new Quality Payment scheme. The group recommendation is that all contractors use the PSNC website as their starting point for their main reference source of information. Other sources can be used, however the information quoted soon becomes repetitious and the group felt the PSNC site was the most comprehensive. The various sections on the PSNC site are regularly updated and provide links to other information and handy tools that you can use to keep records required to qualify for payment throughout the year. Click here for a direct link to the PSNC Quality Payments webpage.
Information includes:
DoH service package - the scheme itself
Gateway criteria - the must do's otherwise no payment at all from participation
Quality payment criteria - the can do's, the more you do the more you earn
Review points - twice a year
PharmOutcomes support - being developed, watch this space as it will contain all the links you'll need plus keep your records and do your GP notifications.
CPPE support - good for directing you to learning resources (also see attachment above)
Payment information - how it works and what to do
FAQs - useful as covers questions asked so far by others
Webinar & slide deck - really useful to listen to and gives context to all the content above.
Additionally the group would like to qualify the following points that may not be clear in the scheme details as follows:
SCR local support events are currently being planned jointly by CPSC, Dorset LPC, Wessex LPN, Wessex RPS & CPPE. Details of the 'Making the most of SCR' meetings will be confirmed shortly, so please be sure to book onto one of these to help improve your knowledge, competence and confidence in regularly using this function. Look out for forthcoming dates and venues.
A Quality Payments page will be created on the CPSC website that contains links to all relevant information and updates together with CPSC updates on any local activity planned.
HLP information is available already on the CPSC website (click here). The HLP guide for participating Hampshire pharmacies can be downloaded directly, although a printed copy can be posted to you if you prefer by contacting admin@cpsc.org.uk
Safeguarding criteria apply to all pharmacy professionals, so it is important to ensure that all Registered Accredited Checking Technicians are included in your planning as well as pharmacists.
Additionally your local Wessex Academy leads will ensure that topics are included throughout 2017 to support any concerns raised regarding Quality Payments. Planning is currently going on to cover Dementia Friends training at each groups meeting prior to April.
'PharmacyComplete' have shared a one page training record spreadsheet (attached along with their summary guide) which you may find useful to document all your training together in one place. PSNC also have individual templates on their website and PharmOutcomes are developing a virtual solution if you prefer this (not available yet)